Breaking up the February Blues

Last week Gary's sister Sarah came out for a little visit and a ski vacation with her fiance Mike and our nephew Kevin. They stayed Monday to Friday and we had an awesome week with them. On Tuesday we all skied at Alta. Ellie took her first ride on the chair lift. She loved it and was in awe of the views, trees, and mountains. I skied two runs myself. Two was all I had in me though. It's not easy when your carrying an extra 20lbs. But I will say it was definitely worth it. Ellie got right into it she was super excited and kept saying "go fast" and whooping it up. It was a thrill to ski next to her and Gary and watch her thoroughly enjoy herself with a big smile and wide eyes. Kevin is a fabulous skier and I think a natural athlete.  He did very well and we were pleasantly surprised by his good attitude. I wish I could have spent more time with him out there.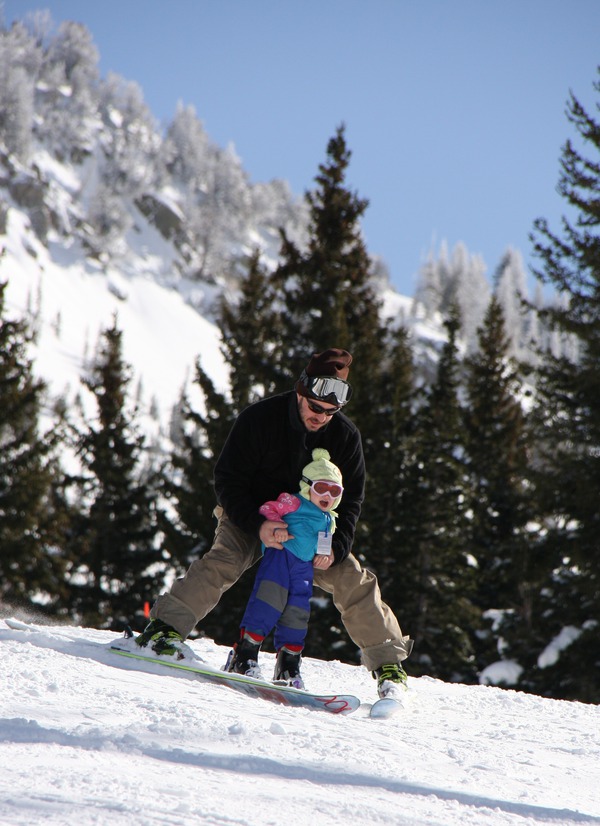 Gary was so proud of Ellie he had to buy this picture taken by Peak Photo on the mountain. It is a great shot and I'm glad we have it.
On Wednesday we took Kevin and Ellie to Soldier's Hollow to go tubing. Kevin was very patient with us as he had to wait a few hours while Gary finished up some work before hand. Once we got there I think he had a good time and was running laps around Gary and Ellie.
[flickrvideo]http://www.flickr.com/photos/17005385@N04/4367166854/[/flickrvideo] [flickrvideo]http://www.flickr.com/photos/17005385@N04/4366448095/[/flickrvideo]
I think Gary had just as much fun as the kids.
Unfortunately I didn't take all the pictures I should have or wanted to. Sarah and Mike got away without even one photo for me. Dang. On Thursday everyone went skiing while Ellie and I had a chill out day at home. Then we all reunited for some dinner. It was good to visit with Sarah, Mike, and Kevin. Kevin was so sweet to Ellie he brought her some toys and helped her make a big tent out of blankets in her room. He is an expert at tent making. He was a good sport to hang out with us and play with Ellie. The visit was too short and I wish we could have had just a few more days to play. It did cure some of the winter blues that always seem to come around in February. Thanks to Sarah and Mike for coming out and bringing Kevin with you. We miss you a ton.
5 comments