Seeing Double
Last week while out cruising the neighborhood we managed to pick up a sidekick. We discovered that his name is Leonard although he looks a lot like Gary's long lost pal Magnus. Obviously Leonard and Adah hit if off right from the start as they are from the same Kuvasz tribe. They are both clowny, silly, and somewhat aloof, but lovable none the less. I can't believe how much Adah and Leonard look alike so crazy. Gary tried to call Leonard's family and let them know we enjoyed his company and how great it is to have another Kuvasz in the neighborhood but we have yet to hear back from them. They are probably thinking "what some weirdos" can't blame them we are a bit cRaZy in love with our dogs 🙂
We attempted to get a photo of the two together but they were so busy smelling and such it was impossible. He is quiet a bit bigger than Adah. Makes me happy we were blessed with a relatively petite lady rather than a big old buffoon.
Is that you Magnus?
Our beautiful Adah



The Story of Adah
When Adah the Kuvasz found me she was a lost dog. I was assisting with a field camp for the Utah State University Geology Department. We were in the Drum Mountains just west of Delta Utah. The Drum Mountains are great for geology, but a harsh landscape to live in. There isn't much vegetation for shelter and pretty much supports only lizards. She came around our camp and had been harassing the students by barking at them as they hiked all over the area doing their field work. She stuck around all day and I caved in that evening and fed her some of my hamburger. She kept her distance and wouldn't take it out of my hand, or come near me at all for that matter. When I went to sleep she followed me and stayed close all that night.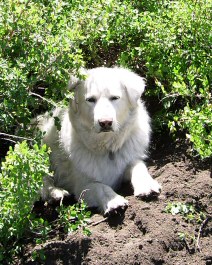 The next day I was set to go home, but this dog was still around camp. She was emaciated and filthy dirty, but she was so beautiful with that white coat it was hard not to be fascinated with her. As I got my things together she proceeded to harass the students and followed some of them up the hillside. Finally it was time to catch my ride home and I had to make the decision to take her or leave her. She had captured my heart so one of the professors helped me fashion a leash and I hiked up the hill to bring her home with me. It was a bit of a spectacle she had never been on a leash before you see so she didn't know what to make of it and it scared her a bit so the whole way down the somewhat steep hillside she walked between my legs. Then we had the chore of getting her in the cab of an old Chevy pickup truck. Professor Pete helped me out and held her on his lap for the ride into Delta. She was shaking and shivering the whole way. Gary was meeting me in Delta to take me home. His first introduction to her she was freed from the truck and immediately peed and laid down at his feet. Gary was hesitant for only a few seconds until something in her eyes captured his heart as well and then he was convinced she was coming with us.
And the rest is history. Adah is now a part of our pack. She was immediately accepted by Chip. The first year we had her she challenged us by chewing up a few things such as my journals and photo albums, a pair of feather pillows, and our landlords bird feeder. She still challenges us with her feral ways. She is constantly on the prowl and has to be watched for those sneaky-break-aways where she decides to roam the neighborhood. She definitely raises Gary's blood pressure at times. She has provided us with some good stories and adventures like that one time she was dunked in the Green River by a Moose. My favorite as of late is seeing her take on the role of Momma number two with Ellie. She let us know one day when I was vacuuming that Ellie was awake and crying. It may just be coincidence but my parents said the very hour that Ellie was born Adah jumped up and started to bark and carry on and Chip joined in. I like to think that they knew what was going on and they were celebrating her arrival and welcoming her into the pack.



The Story of Chip
This story has been told over and over to our family and friends but we like to tell it because we are so proud of the wonderful dog Chip has become and so it goes…
Chip was discovered in Gunnison, Colorado. Apparently he was locked in a barn for two weeks, while the old ranch hand was on a drinking binge. Chip was one of two puppies that survived out of a pack of five. A friend of Gary's picked him up from a vet he knew in town. He was about to be euthanize because he was in such a dreadful state they thought nobody would adopt him. Cree didn't want to see that happen so he scooped him up and brought him to Utah. Cree couldn't keep Chip so Gary decided to take him on.
He said that Chip was a mess his hair was falling out because of mange and he was the saddest dog he had ever met, he could see that Chip was in a terrible state. Chip spent the first four days in Gary's basement too miserable to make an effort to live. Gary was concerned at the time not knowing if he would act out and bite him or just end up dying on him. Finally on a sunny spring day Gary scooped him up and took him out into the back yard and brushed him out. That's all it took, from that day on Chip and Gary have been inseparable.
He was an extremely skittish dog for a while, if there was company at Gary's he would hide out in his room and come out to check on him every few minutes. He would run from peoples attempts to try to pet him. Friends warned Gary that Chip was going to be a difficult dog, but as Chip has aged he has become a beautiful and loyal alpha. He definitely has his quarks such as extreme separation anxiety, a sensitive digestive system, and a funny fear of vacuums. After nine years he has had to adjust to many things along the way such as me becoming apart of his and Gary's little world, a few moves, and our latest addition to the pack Ellie. Considering what he had to endure in the first years of his life I'd say he is just shy of a miracle. Well done Chip.
Seeing Double
Last week while out cruising the neighborhood we managed to pick up a sidekick. We...

The Story of Adah
When Adah the Kuvasz found me she was a lost dog. I was assisting with a field camp for...

The Story of Chip
This story has been told over and over to our family and friends but we like to tell it...